Discover more from Vittles
Vittles is an online magazine based in the UK and India, publishing new food and culture writing.
Tell me about your food tattoos
and I'll tell you who you are. Words by Steph Marsden, Thom Eagle, Jen Calleja, Bethany Rutter, Nina Mingya Powles, Angela Hui, and Georgina Leung.
Good morning and welcome to Vittles Season 6: Food and the Arts.
All contributors to Vittles are paid: the base rate this season is £600 for writers (or 40p per word for smaller contributions) and £300 for illustrators. This is all made possible through user donations, either through Patreon or Substack. A Vittles subscription costs £5/month or £45/year ─ if you've been enjoying the writing then please consider subscribing to keep it running and keep contributors paid. This will also give you access to the past two years of paywalled articles.
If you wish to receive the Monday newsletter for free weekly, or subscribe for £5 a month, please click below.
---
The first tattoo I got was a small illustration of a pineapple smoking a cigarette that looks a bit like an old friend. I got it after a short trip to Taiwan with my siblings (one of whom drew the tattoo), during which I adopted a pineapple from a market in Taipei and carried it around the country for the ten days we were there. I remember little of Taiwan, being overwhelmed and disoriented at the time, but the pineapple is intact in my memory. I can see it perched on my backpack when we ate on the street; nestled in my lap when I drove our rented car.

Before I got that tattoo, I had imaginary ones. When we were teenagers, my best friend and I would play a game we loved called 'Kevin and Blake', where we pretended to be sun-soaked, sweet-tempered white boys from California who were always having a good time. In the game, we would switch to make-believe personalities; we had fake accents and also fake tattoos – of milk cartons; wiggly snakes; a lyric from our favourite Replacements song. I like to think that we were using our pretend identities as fun white dudes to make up for the casual liberty we desired but didn't have access to as young women who lived in Delhi's jagged density. Like tattoos, we thought that free-footed silliness was a luxury afforded to white people and boys. We didn't believe that it could really be ours.  

As I thought more about my stupid pineapple, I realised that, when I got it, I was perhaps claiming idiocy as a right. In my public, professional life as an Indian woman, I often reel from the pressure of being resilient, serious, gentle – performative to other people's expectations. The ridiculous pineapple, meanwhile, cannot be fucked. It reminds me of my impulse to buy food in transit and aimlessly store it away. It tells about (to the annoyance of some and amusement of others that know me) the crumbly pieces of sponge-cake and half-smoked cigarettes that emerge belatedly from my bag. 

Tattoos are as real as they are fantasy, as impulsive as they are ridden with thought; food tattoos, then, are equally various and diverse. The fast-paced, intense worlds of the kitchen are often articulated on the bodies of those that work them, as too are meaningful caricatures, silly jokes and simple moments in which food appears as a symbol to mark the passage of time. 

Yet, even though chef's ink is what is most talked about when we think of food tattoos, food — and, by extension, food tattoos –– belong to everybody. Unlike sharp knives and ripped-out steaks, food takes form in many ways in people's lives, and then, similarly, on their bodies. As Steph Marsden, who came up with the idea for today's newsletter, writes: that food and tattoos go together as much as they do is unsurprising; both food and tattoos become incorporated into the body; they both become part of you. 

We asked some people to write about their food tattoos and got in return short essays. Reading them made me feel like I was at a warm dinner table, being told stories for the first time. Many of these tattoos intersect in theme and sentiment, yet each one is different from the next. These food tattoos are full of memory, power, laughter, intimate references and inside jokes, and reading about them has also got me thinking about my next one. SD
---
Doon yer tea, eat yer bread, by Steph Marsden
'Tell me what you eat and I will tell you who you are,' Kelis once said, quoting some French guy. If you told me about your food tattoos, I wonder if I could predict who you are, what you eat… and where? Once, tattoos signified life on society's fringes, but today tattoos can be meaningful markers of kitchen life, echoing the often brutal rite of passage of service work. Or they can simply be an indelible imprint of identity expressed through food. That they go together is unsurprising: both food and tattoos become incorporated into the body; they both become part of you.
I first thought about getting a tattoo aged 18 but was not confident that my aesthetic choices would match my future taste preferences. But today, at 42, I've embraced playfulness, and the concept of permanence seems less absolute. I'm much fonder of a tattoo which signifies playful expressions of taste, be it Spam, Monster Munch or a bunch of beetroot. I'm fascinated by people opting for condiment tattoos, like Sam Smith's recent Marmite tattoo, or the 70 people  who got freebie tats of Duke's Mayo at Yellow Bird in Richmond, Virginia. 
My friend, tattoo artist Gino Matos, has a food tattoo that really means something – an olive branch on his forearm, which pays tribute to his experience of living in a foster home called El Olivar in Madrid. But, like so many of my life choices, the idea for my own tattoo came about as a bit of a joke. When discussing my favourite tattoo trends with Gino, the silliest tattoo I could think of no longer seem so outlandish. His advice to someone who is getting tattooed for the first time is to start with something small, and not to overthink it. So, for my first bit of ink, we decided to embrace the spirit of a piece of graffiti that has popped up all over Edinburgh, which features the saying 'Doon yer tea' and an illustration of a crocodile saying 'Eat your bread'. 
I love the silliness of the tags, and the mystery surrounding what they are supposed to represent. There are many discussion threads about the graffiti, on its abundance in the city and its possible meaning – while some embrace the (gabber) subculture, others lambast its existence. Recently, a photographer created a project mapping all of the examples of it that they'd found in the city. 
Gino and I used the graffiti as inspiration for my monochrome panel. I showed him a mood board of images and styles I liked; this included some other foods which have permeated my subconscious, such as a squid (which featured in my MSc Gastronomy research) and a mathematical gastropod symbol. When Gino saw the symbol, he immediately said 'Oh, those fractals look like a croissant!', so the 'bread' in my tattoo became a croissant, depicting my dedication to pastries eaten with builder's tea.
The final design of the tattoo differs significantly in style from the graffiti it's based on, but that's the beauty of interpretation that body art can achieve. I feel Gino has produced a fun design which expresses my character, while also creating a nod to my identity – what I like to eat; my tea-drinking 'Northern' upbringing; and the city in which I now live and roam. Did getting a tattoo change me? No. Is getting a tattoo as painful as writing? Hell no. But I have been transformed by the process.
---
A Sebald herring and a cabbage, by Thom Eagle 
I got my first tattoo to mark the publication of my first book First, Catch when I was 32. The book is an account of the construction of a single meal, told in digressive detail, and includes a section on herring. My writing on herrings was inspired by WG Sebald's The Rings of Saturn  – a novel which narrates a walking tour of Suffolk, where I lived at the time. Sebald depicts the decline of the once-huge regional herring fishery, and the hard and dangerous way of life that came with it. The pattern of the herring's silver scales – a five-pointed cross, which was thought by Thomas Browne to be evidence of the wisdom of God due to its ubiquity throughout art and nature – is a motif that runs through the book. 
The herring has come to mean something to me which goes beyond its culinary applications, something that I can't quite put my finger on. So, I got a tattoo of one. My friend Owen Meredith was just starting out as a tattoo artist at the time and, although I didn't bother to elaborate on the (arguably pretentious) reasons for my choice of subject, it came out as I wanted. 
After that, for no real reason except that a single tattoo felt lonely, I got a cabbage – a plump and pointed and (in real life) purple Kalibos, which at the time was my favourite cabbage. (If you asked me my favourite cabbage now, I'd more likely say a January King, but Kalibos is still a pretty cabbage. Mostly I tell people the tattoo is of a Hispi to save the explanation, but it knows and so do I.) Owen did this one as well; I came straight from work to get it and I remember him being slightly annoyed that, having prepped them all morning, I still smelled a little bit like herring.
---
Fork and Sophia Loren spaghetti, by Jen Calleja
I have always enjoyed food, and in big portions too, which probably stems from my childhood; my dad was always plonking huge, domed mounds of spaghetti Bolognese down in front of me, or curry and rice that was spilling over the edges of the plate, which I would clear with no problems. I never really thought about my body shape or food when I was younger (apart from when an older woman told my 18-year-old self that there was 'nothing normal' about me being a size 12). Then, a couple of years ago, I started fixating on what my body looked like and what I was eating. I largely blame social media, but I also recognise that this obsession started around the time I learned that I have polycystic ovary syndrome (PCOS), which can put you at greater risk of developing diabetes and heart disease and make your weight fluctuate more. I began having bouts of guilt about eating certain things, so much so that I would stare at the sugar and carb and protein content on items in the supermarket until I was on the verge of having a panic attack. 
Then, at a low point in my relationship with food, help came in the form of one of the most alluring women I've ever come across: Sophia Loren. I saw a picture of her on Instagram where she was in her underwear, with her hands piling her hair up on top of her head, and accompanying the image were her famous words: 'Everything you see I owe to spaghetti'. It made me feel good. Her body in the picture and my body in real life had similar proportions, and she looked confident and sexy, something I hadn't been feeling for a long time. Our bodies were both made from delicious spaghetti. 
Around the same time as seeing the picture of Loren, I started following Splendido Magazin, a German-Italian food magazine which is co-run by German authors Mercedes Lauenstein and Juri Gottschall. The publication shares a lot of pasta recipes, and its celebration of ravioli and gnocchi and rigatoni made me so joyful that I got a tattoo (by Martha Smith, who has done all but one of the tattoos on my left arm) of Splendido's fork-and-spaghetti icon. It celebrates eating: of pasta, but also food in general. They were flattered, and sent me a piece of their merch: a pink cap that has the words 'meglio cosí' embroidered on the front in blue stitching, meaning 'it's better like this', or 'it's better this way'.
---
The most donut, by Bethany Rutter
The year was 2013. I was relatively early on in my tattoo-getting life, but more importantly, I was relatively early on in understanding myself as a fat woman in the world. I had a popular plus-size fashion blog, and I felt part of an affirming, joyous community of fat women, both online and offline. I was figuring out how I really felt about my body, rather than how I was constantly told that I should feel about it. 
But it wasn't all good. I had a boyfriend who was hot, but he did not treat me well. The validation I got from our relationship meant that I would never have been the one to end it, and I often wondered if he would treat me better if I wasn't fat. I knew that I would be treating myself better by not putting up with our relationship if I wasn't fat. In short, it was the best of times, it was the worst of times – which meant I had to find every way I could to fight for the good. 
I'd had my first tattoo done the previous year, and, in the planning process, quickly realised that I wasn't that interested in making sure my tattoos were 'deep and meaningful'. I just wanted them to be fun, skilfully done and representative of my tastes, my life, my choices. I knew I needed something overt, almost obnoxious, that said everything I needed to say about my relationship with my body, my fatness. When you're a fat woman, there is a constant sense of being too much: your body is too much for other people, for mainstream fashion, for aeroplane seats, for decent healthcare. Your desires are too much, your appetite is too much, your demands are too much. So when I was planning my 'fattoo' (as I like to call it), I knew the food that I chose had to be a food that was not just too much, but in every way the most. 
Very quickly I landed on a donut. But not just any donut. It had to be the most donut. If you close your eyes and try to imagine this concept, it probably looks like the tattoo Rose Whittaker came up with: a bright pink ring donut covered in multicoloured sprinkles, the icing dripping down the sides, with the words LIVE FAT DIE YUM framing it. It needed to be a symbol of excess, of decadence: a visual shorthand for something stigmatised and 'forbidden', an indulgence so flagrant people were almost scared of it. It needed to be so bold that it encapsulated my mission statement: you, Bethany Rutter, will probably be fat forever, and that is OK. The permanence of a tattoo was part of its appeal, because what I was seeking from it was a way to bind myself to my body, the fat body I had then and still have now. My tattoo is about food, but it's also about myself. I've had it for nine years now and I haven't regretted it for a second. 
---
Blue-and-white rice bowl, by Nina Mingya Powles
One of the first things I bought when I moved to London in 2018 was a blue-and-white rice bowl, purchased from the basement of a corner shop in Chinatown for a few pounds. It's such a commonplace object, but it felt like a bold purchase at the time: it was a first step towards creating my own kitchen. To me, this bowl represents warmth and familiarity; the feeling of being held when you come home. My mum, like many Asian families, has an old set of these 'rice grain' bowls, along with matching soup spoons and sauce dishes. The bowls have little indentations in their walls that look like grains of rice. Traditionally, the pattern was made by cutting tiny holes cut into the sides of the unfired clay bowl; the holes were then filled with glaze and the sides of the bowl thinned down, rendering the pattern of markings almost translucent. 
My fifth tattoo is of this bowl filled with noodles, tattooed by Georgina Leung. I tend to get tattoos to mark big moments in my life: a moth on my arm not long after I moved to Shanghai, a magnolia flower when my first book of poetry was published, a ginkgo leaf when I moved to London. In 2021, one of my responses to the city reopening was to get a new tattoo. I knew I wanted to approach an East Asian tattoo artist, and I'd been following Georgina's work on social media for a while; her style is colourful, intricate and joyful, often connected to food and nostalgia.  
Wherever I am, I am always making bowls of noodles – for myself and for others. My tattoo is a reminder to myself of the small and beautiful things I am capable of creating. Its placement on the back of my upper arm means that sometimes it takes me by surprise when I turn and glimpse it in the mirror: the noodles that resemble udon, topped with two sheets of nori and a halved, boiled egg: soft but with a little chewy solidity; half runny, half fudgy, so that some of the yolk pours over the noodles and dissolves into the broth, while the rest stays intact and can be picked up with chopsticks. From far away, the yellow ink of the egg yolk and the blue bowl are bright against my skin. 
---
Salted duck egg, by Angela Hui 
Back in May 2020, when us rule-abiding goons were sitting two metres apart in parks while the government had wine and pizza parties, the thing I craved most was another tattoo. Not just the tattoo itself, but the thrill of waiting, the adrenaline high of hearing the tattoo machine buzzing. Or maybe I just wanted to feel alive again.
At the time, I had eight tattoos. I got my first taste of ink as soon as I was legal at 18, an infinity sign behind my right ear (during my regretful basic bitch era) and a micro-sized star on my right ankle to represent my family's Chinese takeaway Lucky Star. I figured if I got something family-related my parents couldn't give me a bollocking (spoiler: they gave me one anyway). Since then, my urge for tattoos has become more uncontrollable, and I gain several extra year on year, including a lavender plant by Emily Malice near my left boob, decided upon on a whim (no meaning, wanted to fuck around and find out – turns out it really hurts) and a bamboo steamer basket filled with har gao by Morgan Myers on the back of my right arm, tattooed on New Year's Day, to remind me of all the chaotically good dim sum times with family. 
I was mindlessly scrolling Instagram for inspiration, one click away from buying my own stick-and-poke kit to maim myself with a badly drawn Sufjan Stevens lyric, when I came across tattoo artist Georgina Leung. I instantly fell in love with her drawings of cleavers, choi and cha chaan teng Hong Kong diners, and immediately slid into her DMs. After chatting for months, bonding over our families being from Hong Kong and owning Chinese takeaways in rural places, I patiently waited for lockdown restrictions to be lifted, then headed straight to her house to get two new tattoos: one, a traditional Chinese calendar with the number thirteen (my birthday), and the other a food tattoo – salted duck eggs on my right arm (I'm a salty bitch who loves eggs). 
It means so much to me to have Georgie's work on my body. She has the ability to capture the beauty in domestic life as a love language – a mother cutting Asian pears, a carton of Vitasoy, a pink rice cooker – all of which played an integral role in my upbringing and makes my heart ache for childhood summers spent in Hong Kong. Georgie helped me to reconnect with my Chinese heritage in a small way, and to feel more at home with myself. I grew up not knowing any other kids like me; now, I couldn't believe that someone who looked like me was tattooing me. We spent hours talking – about our childhood; the stigma of tattoos in Chinese culture (they are associated with criminals and gangs, and one of the most unfilial things to do); as well as our worries and frustrations about increased racial hate caused by the pandemic, all while she gently poked away at my arms. 
Later, I asked Georgie to illustrate the recipes in my book – from jiggly Cantonese steamed eggs to a gloopy bowl of congee. Ideally, I want to get all the recipes tattooed on me (sorry mum), but for now I have the anticipation of waiting again, this time to get a pair of chopsticks picking up cheung fun to commemorate the book. I'm counting down the days until our next booking.
---
Listening in on the lives of others, by Georgina Leung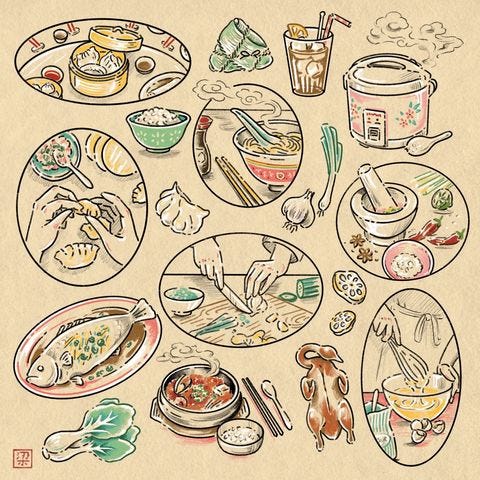 Tattoos were not discussed in the Leung household, except to disapprove of them. When I was 17, I took my sister's ID to Dublin and got a small cherry blossom flower on my hip, leading to tears, smashed plates and a threat to disown me. My dream of becoming a tattoo artist fell by the wayside.
At the start of the pandemic, when I was furloughed from an industry that had given me nothing in return apart from crippling anxiety and a damaged identity, I took up painting again. It seemed like a chance to recuperate and pick up the pieces of my self-worth. Although painting large canvases feels satisfying and appears impressive, it also felt daunting to try to create a masterpiece, so the idea of 'flash' designs became a less committal way of drawing; each piece could be small and quick, graphic narratives in their own right. My Instagram account became the anonymous outlet where I began posting drawings inspired by memories: Cantonese street food, cultural motifs, porcelain I would see dotted around extended family's homes. 
I soon began hand-poking tattoos on myself, a traditional and archaic method that just involves a sharp point and some ink, where lines are born out of a series of dots which are slowly pierced into the skin. Giving them to myself slowly became a form of therapy. The act of allocating time to myself, to go at my own pace and to gift myself something I'd created – it all made perfect sense. I was astounded by the influx of viewers online who felt an affinity with the motifs I was tattooing (even just scribbles of white rabbit candies and mahjong tiles) and messaged to say they had never been interested in tattoos because there was a lack of art they felt any emotional connection to – until now. 
During this time, I met a writer called Angela Hui, who contacted me after I had posted flash designs I created of a Chinese calendar, salted duck eggs, salted fish, steaming rice cookers and Lunar New Year decorations. We immediately struck up a conversation, where we spoke of our love of our mums' cooking, life as a second-generation takeaway kid, and how we felt an urgency to be more vocal about our cultural upbringing. She soon wound up in my flat, getting stabbed by needles herself. 
Fast forward to 2023, and I now run a small tattoo shop with two other artists. I often get asked the what my favourite subject to tattoo is, and I find myself answering 'food'. It is in food that we find the most connections, where we can appreciate how the migration of people and food has become so fluid. I get to help people recall their most beloved home-cooked meals, a simple childhood snack they were only allowed on special occasions, or emphasise the steam coming from a bowl of noodles. It doesn't matter to me if my tattoos are small and novel or large and significant; to me and my customers they represent migration, diversity and, most importantly, self-acceptance. The greatest gift is that with every single tattoo I give, I get to listen in on the lives of others. 
---
Credits
Steph Marsden is a designer, retailer and researcher based in Edinburgh. She will be documenting her forthcoming food projects on her blog at Amuse.

Thom Eagle is a writer, chef and educator, formerly of Darsham Nurseries in Suffolk and London's Littleduck but currently cooking and teaching in Margate, Kent. He has presented at the Oxford Symposium, writes the psychogastronomy newsletter, and contributes to At The Table, Pit and Market Life magazines, The Wine Zine and Vittles. He is the author of two critically acclaimed books, Summer's Lease and First, Catch, which was shortlisted for the André Simon Food Book of the Year and won Debut Food Book at the Fortnum and Mason Awards.

Jen Calleja lives in Hastings, where she writes books, translates German-language books, and publishes Maltese books. Vehicle: a verse novel (Prototype) and Dust Sucker (Makina Books) are both out imminently. @niewview www.jencalleja.com

Bethany Rutter is an author from south-east London whose work focuses on women and girls and their bodies. Her latest novel, Welcome to Your Life, is for adults, while No Big Deal and Melt My Heart are for young people.

Nina Mingya Powles is a zinemaker, writer and librarian from Aotearoa New Zealand. Magnolia 木蘭, her debut poetry collection, was published in 2020 and shortlisted in the Forward Prizes. She is also the author of a food memoir, Tiny Moons (2020), and a collection of essays, Small Bodies of Water (2021). She writes an occasional e-newsletter called Comfort Food. 

Angela Hui is a food writer, journalist and editor based in London, and the author of Takeaway: Stories from a childhood behind the counter. You can find more of her work at angelahui.co.uk and documenting Chinese takeaways in the UK on Instagram.

Georgina Leung is a London-based tattoo artist, who co-runs the tattoo shop Yuzu Space in Hackney Downs. You can find more of her work on Instagram.

Tattoo artists featured: Gino Matos, Owen Meredith, Martha Smith, Rose Whittaker, Emily Malice, Morgan Myers and Georgina Leung.

Vittles is edited by Jonathan Nunn, Rebecca May Johnson, and Sharanya Deepak, and proofed and subedited by Sophie Whitehead.