Discover more from Vittles
Vittles is an online magazine based in the UK and India, publishing new food and culture writing.
This is a paid-for subscription only article. If you would like to upgrade your subscription for £4 a month then you can do so below:
---
I am officially banned from writing about Feroz Gajia. Or at least at any publication that has any rules on conflict of interest (luckily Vittles is not one of them). 

I met Feroz in the aftermath of the Boring Thai/Som Saa debacle in 2018, soon after I started writing and not too soon before Feroz started writing himself, both of us for Eater London. I think we initially bonded over a shared understanding of how food media had created the conditions for the appropriation of Thai food in London to be such an emotional issue, as well as bizarrely similar eating habits. Since then we have marauded around London like food media's Wario and Waluigi (you can decide who is who) ─ I'm not sure I've eaten with any single person more except my mum, and even then it's running it close. 

Feroz also co-owns a cafe in Hackney in east London called Bake Street, where he has pioneered his own style of Halal brunch; a worldwide phenomenon of a genre but also something that has unique influences within London and the rest of the UK. While based on American and Antipodean styles of brunch, Halal brunch, and particularly Feroz's take on it, is an expansive, transnational genre taking in influences from the Middle East, south east Asia, Latin America and pretty much anywhere Feroz has eaten at in the past week (past specials have included lamb birria with tortillas given wings of crispy melted cheese, a version of murgh makhani turned into a fried chicken burger, the noodles from Parasite, and a choice of unadorned single cultivar mangoes, including his beloved Rajapuris). 

Feroz does not really have an analogue in the London food scene, and to find someone similar you would have to go to New York and look at how Kenny Shopsin managed to refract the entirety of a city through the lens of line cooking, creating food which was in no way fine dining but made delicious through small but ingenious touches of care. The food leans heavily on nostalgia ─ his burger for instance has been described as "what you think a McDonald's double cheeseburger will taste like just before you have it, but it actually does taste that good" ─ but it is also forward looking, particularly on weekends where Feroz has an opportunity to push the limitations of what a Halal brunch menu can be.

I sat down with Feroz to talk about the history of the Halal brunch genre, where it's currently at, plus the recent food media discussions about naming and appropriation, and why being respectful is never a barrier to creativity. 
---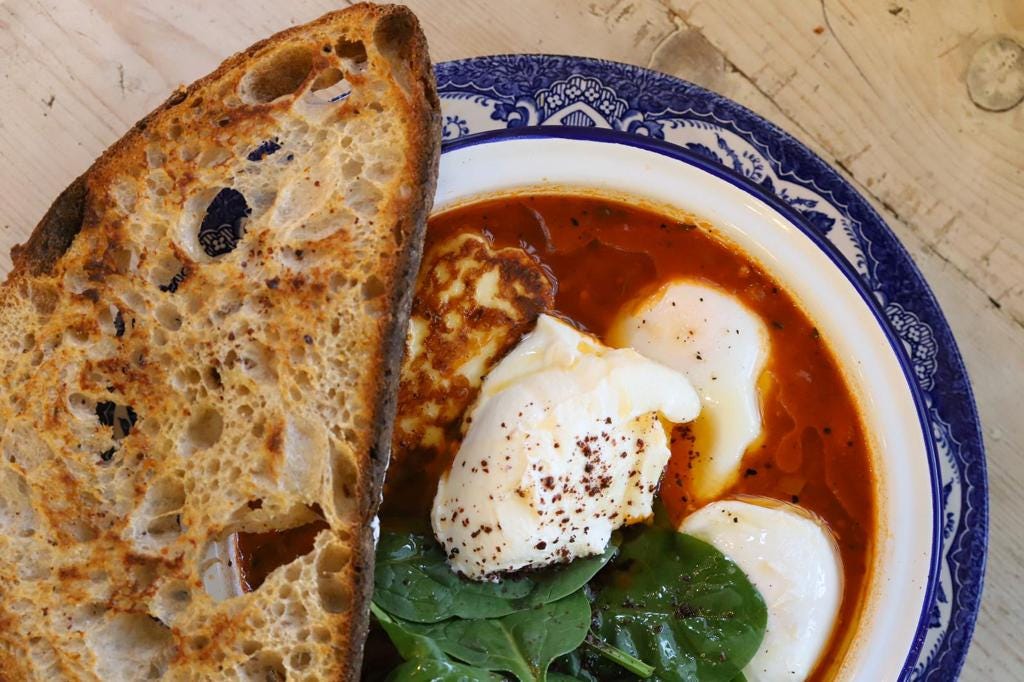 Could you tell me about the history of Halal brunch, and how it uniquely manifests in the UK?
I feel like the Halal market in general, or at least this generation of the Halal market, always looks to the US for its food inspiration. It's not just this country, it's also a big thing in Muslim heavy countries in the Middle East. They'll bring every chain and type of restaurant from the US and make a Halal version with the licenses, just because it's what people want. Now here it was never a proven thing because the market was never deemed that strong until the last 10 years, so you'd have knockoffs. Instead of Nandos you'd have Five Lads, instead of KFC you'd have every fried chicken shop in the city. Those were not brunch things but they were the basis of a new Halal dining.
Now the new generation has more disposable income, they're forward looking and they want something different. They want a type of food they can call their own, but which their parents and grandparents wouldn't eat. It's the third place - like Howard Schultz said of the coffee shop in the US. In the UK the third place would be the pub, but because of the alcohol restriction the closest thing to it for Muslims would be a cafe where you can have brunch or food, but also just hang out. 
So with the US influence, originally you had the Halal burger market, and then, as a by product of that, the Halal diner market. In 2009/10 the idea of US-style brunch, which was just percolating into the UK, seemed to catch on because there was less meat, there were more eggs, there were more things they could eat than on a normal menu. Obviously when there's a possibility of making money then restaurateurs will take it ─ so Halal brunch became a thing because they saw an opportunity to make money or something that was very easy and cheap to do. There are now plenty of places which are incidentally Halal, or accidentally Halal, or Halal by necessity just to make money, so it means the quality of ingredients drops, the care and attention drops, and there maybe less than a handful of Halal brunch places doing it properly. They are just doing it to do it, or they've given up and moved onto the easy likes of a flower wall aesthetic.
Lots of people think that to be a Halal restaurant or cafe you would just not have to have any pork products. But obviously it's a lot more complicated than that.
For Halal restaurants or anything Halal, just like with Kosher, there's various schools of thought and there's various levels. This is something most people won't see: they'll know it's no pork and they will maybe know that it's no alcohol. Those are the base things and the most simplistic things. But just like in Christianity where there's multiple sects, there's the same thing in Islam, where certain sects will not eat the majority of seafood, or based on how religious someone is they will not want to eat at anywhere that has pork on the premises (in the same way Orthodox Jews would not eat at a place where there's any dairy where there's meat). But it varies from person to person. Certain people will be more accepting of a mainstream restaurant where there are two Halal dishes, whereas someone might only eat at a Halal-only restaurant serving meat that has been hand-slaughtered by a Muslim, which some would say in this country is the highest standard. There's a monitoring board called HMC which is policed by clerics to make sure that animals have been hand slaughtered rather than stunned ─ which is a big issue when you look into it, there's a lot of blowback about this not being humane and there's arguments on both sides ─ but people will make up their minds and then only go to restaurants based on these factors. Most people who aren't Muslim wouldn't even think about this.
Also your sourcing options are extremely different from a non-Muslim restaurateur. Like you're not going to get Halal cull yaw.
No, you can't get the quality or if you are getting the quality you're going to have multiple issues. You're going to be paying 50% minimum more for all your meat, you're going to have issues with the quality of butchering and ageing. You're going to have issues finding the right type of animal, keeping up a supply chain, because the system is not in place in this country to keep up with the demand. People are demanding better and better quality Halal meat because the current Muslim market is heavily meat-eating and they want better perceived meat for their money. So traditionally, we would have gone to small farms who had slaughterhouses and who had one person on site who had the right to slaughter animals in small numbers; now it's become a big machine. So a lot of meat from Brazil, Australia and the US comes over here with external Halal bodies monitoring the quality, solely because there is demand for better ─ or perceived to be better ─ meat, or brand name meat. So wagyu and things like that are coveted.
Actually where is all this wagyu coming from? Even Salt Bae has wagyu on his Nusr-Et menu.
Mostly Australia and some from Chile. And it's because they decided that nearly all of the meat that is mass butchered in farms based in Australia will be Halal, so it's easy to source from there. It is very expensive and it's not amazing quality, but it's easy. And obviously Brazil is the largest slaughterhouse in the world for poultry and beef, so it was obvious that they would be tapped to produce vast quantities of Halal meat. And it's not just here, in Saudi Arabia or other Muslim countries they're sourcing all their meat from abroad with very little control over quality or religious rituals or anything like that. 
Talking about Australia, there's still a very strong Antipodean influence on the Halal brunch scene here that has nothing to do with the US. 
Definitely. It's a bad thing to say but Halal dining is always 4-5 years minimum behind the mainstream. So when Antipodean brunches became a thing over here, it was only a matter of time before it became a thing for Halal. What's interesting is that it originally started out solely looking towards the US, but as it absorbed London's Antipodean brunch scene, and because of where Australia and New Zealand are in the world, it also started picking up influences from east Asia and south-east Asia in particular, whilst marrying it to European sensibilities. So all those things are influencing the next variant of Halal brunch. But until we succeed that influence, there's no guiding light for the Halal market as to what's coming next apart from plastic flowers and coloured coffees.
I see Bake St as unique in the Halal brunch scene, not just because of you but also because of where it is in London. Could it exist in the same way somewhere else?
Hackney has obviously changed a lot but it's kind of righted itself in that it's now too expensive for more people to move in, so you do have that balance between the older communities ─ people from west Africa, the Caribbean, south Asia, Latin America, and of course the Orthodox Jewish community. So I originally wanted to ground the place in the Levantine region, somewhere familiar to Muslims and Jews and Christians, and where most of the meat eaten is very much in line with Halal sensibilities. But as soon as we opened I found that people wanted flavours from elsewhere - like the oldest thing I have on the menu is literally a version of an Egg and Bacon McMuffin, but made from lamb instead of pork!
I don't think it could exist somewhere else in the way it does now. Or at least, I think it would be possible to exist somewhere else but it just wouldn't last in the same way or be able to be under the radar. It would have to have a much larger marketing push or some kind of co-opting, or in my mind a feeling of desperation that I have to make this a success. But because where it is, by a small railway station, plus the reasonable rates the council give us for rent, we can be a local place and exist under the radar and only pop up when something interesting happens. 
By under the radar do you mean under the radar from the mainstream food media?
Yeah, but also the kind of people who sort of food hunt.
Like us?
*laughs* Yeah sort of. But people who are led by what they see from others ─ I don't want to use that terrible word 'foodies'. I'll freely admit it, sometimes I feel like I purposely make ugly food or food that isn't plated like a restaurant or cafe should just because I want people to not think about taking a picture and just eat it. For example, at the moment we have tacos on. Every restaurant sets out their tacos nice and neat so you can see all the ingredients and the little bit of greenery on top. It looks lovely but you're going to spend time getting a nice picture and that's a minute that the taco has been sitting there, and it's dead. It's not what it was a minute ago. But I'll put something underneath so you can't see it, and there will be texture under that, and the main ugly thing will be on top. It means people eat it straight away, hopefully find it delicious, and maybe order more. 
If not foodies then who would you say is your bread and butter clientele?
I feel like initially I went to get maximum impact from our original clientele, which I would say are Muslims who are second generation who had nowhere interesting to eat, or were tired of being fed the same kinds of foods. But as soon as we opened and we realised the diversity of our regulars then it became the 'word of mouth place'. So we lived and died on regulars recommending us to friends living a few streets away or boroughs away or cities away, and a few in other countries. And I think that still sticks ─ we're a word of mouth restaurant. It's just that the word of mouth has changed since I started writing. So even though I don't like to talk about the work, I end up talking to people like you or friends of people we meet, there's always a bit where you say 'well I do this'. But the local regulars who come 4-5 times a week, or the days we're open at the moment, are still the most important part. And they continue to make the place run, or we would be closed.
Halal brunch is transnational by definition. You could not walk into Bake St, look at the menu, and have any idea where the chef is from. Could you talk me through the process of how you research and develop a dish and put it on the menu?
I try to do one of two things. Either I'll try to create something that is very much of a culture, something people from a culture will recognise. So I'll slavishly look through multiple recipes and test everything. But if it's not close then it will be something different and I'll give it a name or make up a name or a link. To give you an example there are plenty of Middle Eastern dishes with chickpeas in, but I didn't want to do any of the specific dishes because I don't feel like I could do it any better than all the Middle Eastern restaurants that are already here. Because if you're dedicated to a particularly kind of food then most of the time you're going to do it way better. So I took the ingredients and made a different dish, called it something that doesn't exist, and didn't try to tie it to a country or a people or a place, because that would be disrespectful to them. It wouldn't feel right. But when I have friends or customers who come in who are from a place and find some commonality with it, then that's the best compliment. It doesn't need to taste like your favourite restaurant or your mum's cooking, but if it's enjoyable in some way then I've done my job and I'm happy I've fed you.
There's been a lot of discourse about naming things in the last couple of years. Whether it's people unhappy that names like mohinga are being attached to dishes that are not recognisably mohinga, or in the case of Alison Roman, the exact opposite where something familiar is not being called by its proper name. Do you think what we call things matters?
It's important because like any person of any background who isn't based in their home country, you want some sort of connection or understanding to be felt by other people. So when something is called by its actual name, you want it to resonate with you. And as an extension, if you're someone else and you want to do justice to someone's culture, then you want to name it exactly so the other person can feel a sense of ownership of it. For example, with Alison Roman and Christina Tosi, they were both making malawah, which is a Yemeni flaky bread. It was very clearly a recipe for malawah, which as the name describes is a bread which is flaky, it's a flatbread and it's from a very particular tradition.
If you're taking something like that bread, where it's either been heavily inspired or you're just taking that recipe explicitly, why not educate your audience and let them have a connection with a culture they might not know? Because as soon as you know the name for something, it might still be alien to you but it becomes normal. And normalising it is the first step towards people understanding other people. The moment you know a dish from another culture, you have a touchstone when you meet someone from that culture. Knowing the word 'egusi' and then meeting someone of Nigerian descent, even though it's such a minor thing and it might be cringy, it's a starting point of a conversation. And it's also something you can then research yourself. 
So when do you feel comfortable putting a named dish on the menu?
If I had a friend who grew up with that dish and I could comfortably put it in front of them and have them enjoy it. Now they might not say it's the best version, but if they can enjoy what it is and recognise it and not question it, then in my mind that's right. Then I would use the name. 
But it's difficult. I have a dish on the menu which most people would call a shakshuka, but I didn't feel comfortable using that term because there's too many allowances I've made to make it closer to a Turkish breakfast dish. But it's not menemen either. Menemen has a very strict set of rules about how it's made, and there's a big argument over whether you should have onions or no onions in it (you can check this on the Internet, it's very heated!). So what I did is looked into other versions of what you could call "soupy tomato dishes" so I could find a central point and then could then connect it to something else. It was actually funnily enough via Peter Gordon who had gone to a Turkish restaurant known for something called a Chaka Breakfast. Now I didn't take that same dish - I used the same name and source but interpreted it differently and tried to find some commonality between all three things. It was a long process and in the end I named it after something almost no one has heard of. We ended up taking away the word Breakfast and just calling it Chaka, because in that restaurant it would be served with dishes on the side, like a Turkish breakfast would be, but that's not realistic for us. 
And then while researching all this I found a way to do a shakshuka which would be very close to a Palestinian one, and I did a version of that. I could have done it the way everyone else does it, in a pan, exactly how it would be served in Palestine, but that's too risky. I'd never be accepted for that. My Palestinian friends would just be like 'What is this? This isn't good enough?' So I made a variant, I put it on toast, I gave it different textures, and I got the thumbs up. I was so nervous before putting it on, I was scared to give it to the Palestinian people I know. One guy I know was really happy with it and came back for it multiple times. So I felt I wasn't a fraud. Half of it is intent ─ if you're  feeling worried that you're going to be found out or someone will be aggrieved by the dish you've made, then usually you're on the right path. Usually you're halfway to creating something that people can actually be proud of.
You name the lamb birria which was on as your special last weekend. Is that because you know it's closer to the original dish or is it because you know less Mexicans?
*laughs* No, I know a few Mexicans so it is a worry. And actually one friend just ate it this weekend and he was very complimentary. How much is him being nice is another question! I named it because over the years this is something I've done multiple, multiple times and I've refined my ability to shorthand it and hone in on the flavour of what I think birria is. Now I've never been to Mexico, but I've eaten food from people of Mexican descent here, and in the States I've had birria from proper birria stalls. But even if I hadn't, I would have done the research. Birria is in some sense very simple because it's just about the cooking of the meat and a few ingredients, but there's so much complexity because behind it you have the complexity of the Mexican pantry. And a Mexican pantry will have dried chiles, it will have avocado leaf, it will have epazote, which is a dried herb, and even stuff like oregano would be very different from the oregano you have in Greece. So all this means if you have to be in tune with these flavours to find a clear shorthand to reproduce them.
So my own pantry was stocked with 10 different dried chiles from Mexico, I had been nursing a mole paste in the same way they do at Pujol, where they use a technique for making mole where you always keep some back and refresh into your new mole and build up your background notes. So on the face of it, birria is just lamb, oregano, salt, pepper, epazote, onions, garlic, jalapenos (although you're not supposed to use jalapenos but I do because I've got some really nice fresh ones) some dried chiles, orange (in Mexico they would have sour orange so I cut it with lime) and you just cook it slowly so the fat renders, and you cook it a second time like you would with any stew so the meat becomes really soft. But having that extra mole and doing simple things like rehydrating the chiles, charring your vegetables like you would in Mexico, means that I can feel confident that if someone ate this, even if it wasn't the birria they know, they would be happy to identify this as birria. 
So much of the tedious cultural appropriation discourse last year was people saying, well if you start policing what people call stuff - mohinga, or jerk rice or whatever - then it stymies creativity. Yet you're as sensitive to the conversations surrounding appropriation as much as anyone and you've seemed to find a way of being creative within this framework.
The funny thing is these chefs know, throughout their careers, that the more restrictions you have, the better your creativity is. When you have an open book it's far too easy to get carried away and create something unfocused, but the moment you have some restrictions and a very clear path of what you need to do, your creativity goes up and you create something better. So they should be viewing this idea of creating something based on respecting the original as the ultimate version of this, where they are being restricted by a set understanding - not a recipe because recipes are different - a set understanding of what something should be. And if they can understand that, then they might be able to iterate on it and define that dish in a different way, but still have the heart and soul of the dish. If you can't do that they shouldn't touch the dish in the first place. Call it something else. Rename it. You can use all the herbs of Vietnam without saying it's a Vietnamese dish.
The only reason people do it - and I think this is true - is because they're scared of alienating their customer, so they try to make it equivalent to something that already exists. Unless you're a fine dining restaurant where you can just name the ingredients, they're always worried about just making a dish and whether it stands on its own, so they try to associate it with something else. The amount of pho talk is ridiculous. Chefs will just name anything that has beef in it 'pho', when pho is not necessarily a beef based broth, that's just one style. I'm saying this as someone who has a lot of affection but only an intermediate understanding of the complexity of Vietnamese food. Maybe a few years ago I would have been foolish enough to travel down that rabbit hole, but now I know better. I would only undertake it if I was willing to risk putting it in front of someone who eats the best Vietnamese food and them telling me it's good, otherwise what's the point? Anyone can make a subpar broth and call it 'pho'.
Is Halal dining in itself an interesting barrier for a chef to spur creativity?
If it was just the rules of what makes something Halal, then yes it would be. Just like with the Jewish community using the rules of Kashrut to make things like salt beef and fish and chips, things which were born of trying to do something with the very basic things which they could consistently use. Halal would be the same to an extent if it wasn't so shaped by what the people want: base products, meat done very simplistically. It hasn't really developed in the same way. There's a place I know that intends to do fine dining, run by a friend of mine. The chef  has almost solely cooked Halal food in his professional career but has done some time in French kitchens that have done Michelin-esque food. He's taken dishes which I feel are from the 90s and just reinterpreted them to be Halal dishes. That's not creativity, that's just replicating badly. It's not going to taste better than the original dish, it's just going to feel like something's missing. But in the right hands, maybe with the next generation where people are striving to work in better kitchens and have more exposure to different styles of cooking, maybe it will get better. 
---
Feroz Gajia is the chef/owner of Bake Street in Rectory Road, London. You can find Bake Street on Instagram. It is currently open for takeaway orders - get the burger, get the specials.